Faces of the Game: Influencers Grow the Sport by Grabbing Eyeballs
Faces of the Game: Influencers Grow the Sport by Grabbing Eyeballs
YouTube and Social Media Have Become Key Ingredients for Boosting Pros, the Game
Thursday, February 4, 2021 - 14:13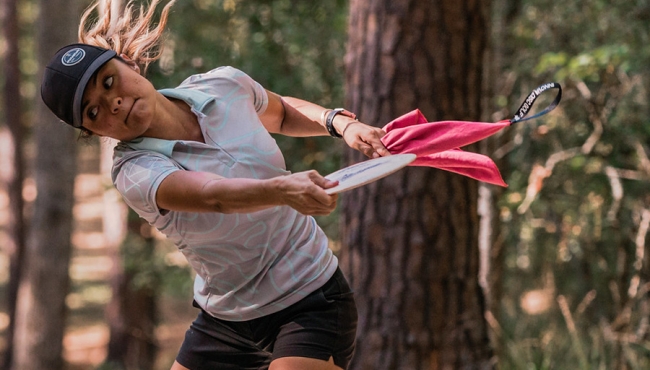 This story orginally appeared in the Winter 2021 edition of DiscGolfer Magazine
When talking about growing the sport of disc golf, you could quickly identify some key goals: larger tournament payouts, network partnerships and expanding viewership. Without question, special moments like Paul McBeth's impeccable 18-under round at the 2018 Great Lakes Open, which caught the attention of ESPN, or this year's television broadcast of the Dynamic Discs Open on CBS Sports and the recent ESPN2 feature on the Disc Golf Pro Tour finals have provided invaluable mainstream exposure; these move us further forward in the quest of seeing disc golf play out on a grander stage.  
One core strategy for success within the overarching mission of growing the sport is, surely, inspiring more people to get out to their local courses and give disc golf a try. And in the age of COVID-19, as an "outdoor, quasi-socially distant activity," disc golf manufacturers appear to be "experiencing record demand," says Nate Sexton, on the Breaking Chains podcast with Dan Hornberger. As more money is pumping into the sport through increased participation, disc golf is already well on its way to reaching new heights. But what is truly driving newcomers to dive so deeply into the sport?
Pulling Back the Curtain: The Era of Self- Branding
Undeniably, awe-inspiring performances like McBeth's have contributed to disc golf's rise. But personally, as a newcomer to the sport, I can assuredly say that the pinnacle of professional play had little to do with my newly found obsession. More than any ESPN highlight or A-tier event coverage, it was the unique personalities and uncontrived fun captured by passionate pro disc golfers-turned-content creators that motivated me to discover the joy of throwing plastic discs into chains. The proliferation of disc golf content on social media is part of a larger media trend that benefits athletes and fans alike.
It's no secret that the democratization of content has empowered virtually anyone to self-brand and build a loyal following through social media platforms like YouTube, Twitch and Instagram. In the wake of the rapid shift towards ubiquitous internet culture, being a content creator has emerged as a highly profitable occupation. Consumers are increasingly cutting cable bills in favor of a social media content medley, perfectly tailored to suit one's own interests. Consequently, athletes involved in sports such as ours need not wait for the spotlight to come to them. Instead, they can go out and grab it for themselves.
The benefits of self-branding through content creation have been nothing short of life-changing for athletes partaking in sports outside the mainstream media bubble. Austrian mountain biker Fabio Wibmer, for instance, amassed over five million YouTube subscribers with his animated video shoots, while American strongman competitor Brian Shaw boasts over one million views on over 40 videos. Beyond the inherent reward of being able to earn a living outside of professional competition, namely through ad revenue and sponsorship deals, successful content-creating athletes enjoy another distinct and powerful asset: the ability to take their audience with them, wherever they go.
Enter Brodie Smith.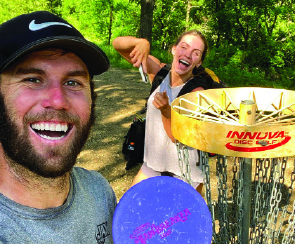 Brodie Smith's Loyal Fans
Although a relative newcomer to our sport, Smith is already an all-pervasive household name in the disc golf community, and for good reason. As a veteran YouTuber, Smith's high-octane personality and natural showmanship, combined with elite disc sport skills forged in the arena of collegiate ultimate, has awarded him over 2.3 million YouTube subscribers and a legion of loyal "ride-or-die" fans (as Smith calls them), who are more than happy to support him in whatever passion he pursues. Unquestionably, Smith's foray into professional disc golf instantly brought new eyeballs, as well as new players, to the sport.
While his claim to fame has been typified by epic Frisbee trick shots, Smith now takes us along for the ride on his journey to becoming an elite disc golfer. His infectious energy and fun demeanor aren't lost in translation as he plays rounds across the United States, usually joined by partner and co-star Kelsey Smith. The two are often seen alongside pros, most notably McBeth. The synergy between the 5x world champion and the ultimate star affords Smith the opportunity to absorb disc golf knowledge from the best in the business, while McBeth enjoys a substantial bump in social media exposure and the opportunity to learn from a master at the art of self-branding. Earlier this year, Smith and McBeth became owners of Foundation Disc Golf, allowing them to further promote their signature lines of discs, apparel, and accessories, while serving as a central hub to share all-things disc golf, including podcasts, videos and exclusive behind-the-scenes content.
Smith's ability to self-brand and engage viewers through content creation is ostensibly seen as the gold-standard for aspiring disc golf YouTubers.  Effortlessly exuding charisma on-camera is by no means a prerequisite to reaping the rewards of building an online presence.
Just ask fan-favorite Simon Lizotte.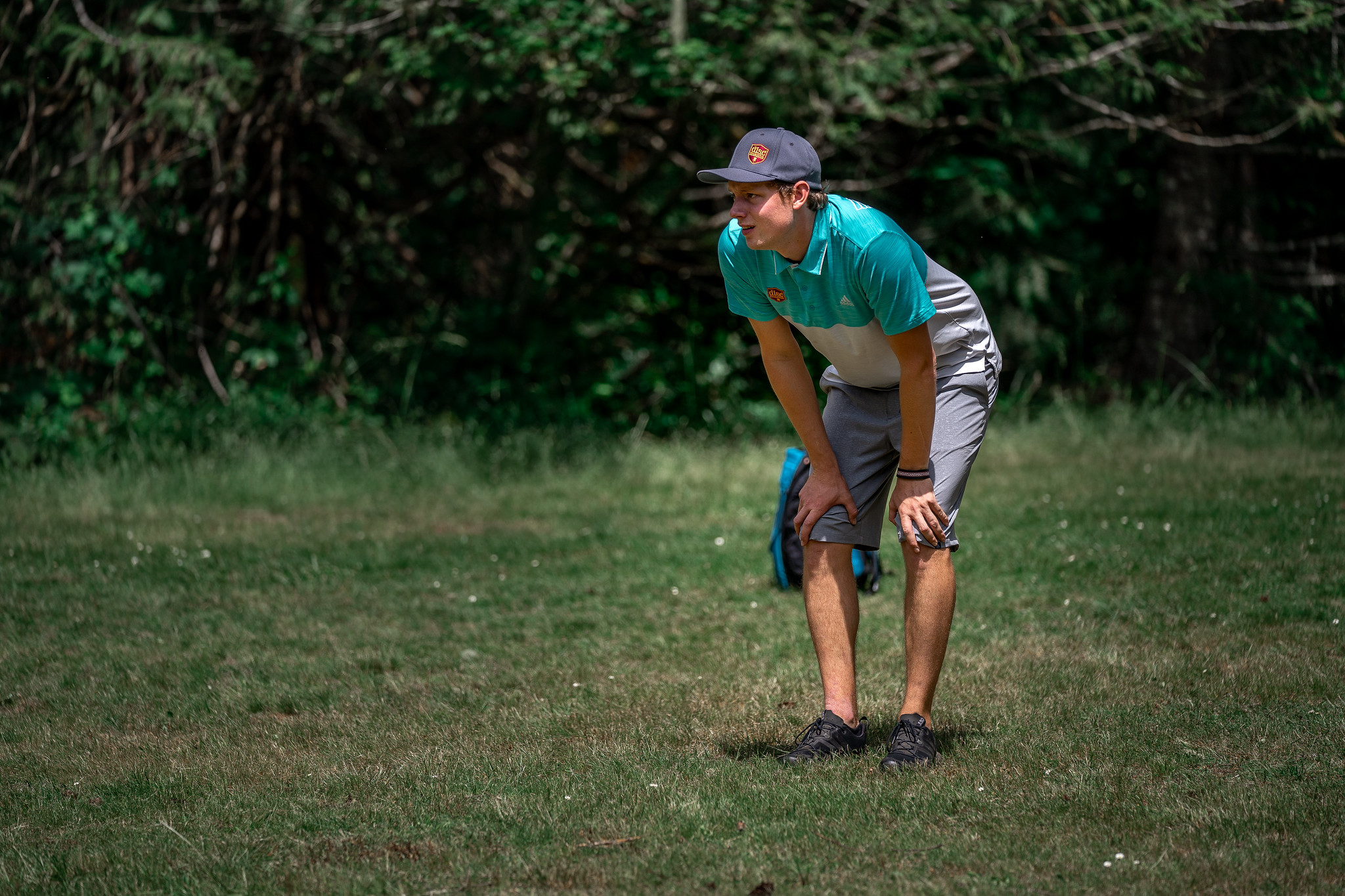 Simon Lizotte: Becoming Mr. Natural  
"I used to be … just shy and nervous … you could really tell I didn't like being in front of the camera," Lizotte says, in a Q&A for his YouTube channel. "Now it's just part of the job — photo shoots, video shoots, just easy … all in all just natural."
From spinning a shot selection raffle wheel to attempting ace runs on chainless baskets, Lizotte's wealth of creative concepts keeps his videos fresh and his audience engaged while ensuring there's never too long a stretch of time between uploads. He probably would have laughed if you told him when he first started making videos that he would reach 100,000 subscribers before the end of this year — a significant milestone within the YouTube community and an accolade formally recognized in the form of a silver "YouTube play button" plaque.
"[It] blows my mind. I would have said it's impossible," Lizotte says in a sit-down interview with JomezPro for CBS Sport's coverage of the Dynamic Discs Open. More than an impressive metric, hitting 100,000 subscribers helps transform Lizotte's vision as a content creator into a reality. "With financial support from the YouTube ads, plus Patreon now, I could potentially hire an editor — a videographer — and take things to a whole new level," Lizotte says. "I have the whole country to do whatever I want. Play disc golf tournaments on the weekends, and the rest is like no limits."
Drew Gibson's Mixed Bag
Veteran pros and rising contenders alike would be remiss not to capitalize on this prime opportunity to leverage disc golf's surging social media trajectory and make a name for themselves outside of sanctioned tournament play. In a recent episode of Griplocked, the Foundation Disc Golf podcast, Brodie Smith offers advice to players looking to do just this. According to Smith, adhering to an authentic voice that viewers can connect with is vital for success in the brimming YouTube disc golf scene.
"Social media is a lot harder for people that put on a persona that's not them ever," Smith says. At the end of the day, as Smith sees it, whether your content simply serves to make someone's day a bit brighter, or inspires them to try out disc golf, being true to oneself is key to making a lasting impact. "I don't think there's one right way of doing it … it's ok to stand out, be different, be yourself."
Ultimately, sincerity and originality are two sides of the same social media content coin.
Drew Gibson is a player who exemplifies Smith's advice by using the most distinct aspect of his disc golf game to his advantage in the content game as well. As the only "mixed bag" player on the Disc Golf Pro Tour, Gibson has free reign to use molds from any disc golf manufacturer he so desires. Leveraging this distinction as the savvy content creator he is, Gibson's YouTube channel features a number of videos in which he tests competing manufacturers' products in head-to-head throwing challenges, determining the top discs for each category. By having no horse in the manufacturer race, Gibson can create relevant content that stands out from his peers.
Christine Jennings Knows Her Audience
Within disc golf's male-dominated YouTube scene, rising contender Christine Jennings demonstrates the value of knowing one's audience while paving her own path to success as a disc golf influencer.
"I definitely gear my videos towards women and beginners. I knew I wasn't the only female out there when my significant other was giving me the wrong discs to start out with" Jennings says.
Hailing from Okinawa, Japan, Jennings was still in middle school when her family moved to Dayton, Ohio in 2006. There her enthusiasm for athletics flourished as a volleyball player both in school and on Junior Olympic teams. It wouldn't be until 2016 that she discovered and quickly fell in love with disc golf. Her passion for the game fast-tracked the development of her skillset, signing with Team Innova in 2018, and earning the title of 2019 PDGA Rookie of the Year in Female Professional Open (FPO).
As an "avid Instagrammer," with a considerable following, Jennings was no stranger to social media promotion, but when Instagram's video application, IGTV, failed to gain much traction, she turned her attention towards YouTube. With an emphasis on introducing woman and novice players to the sport, the ultimate goal, Jennings says, is to be "as informational as possible without being overwhelming." From disc selection to tournament tips, Jennings strives to keep things relatable as an encouraging voice in the disc golf community. "I want to be transparent with everything I do—I post about my successes and my struggles to show that I too am human," Jennings says.
Interestingly enough, the accessibility of disc golf is mirrored only by the accessibility of disc golf media content. When I look back to my discovery of the sport which enriched my life in so many ways, I feel grateful to have found it at this precise moment in time, when disc golf personalities and content are as manifold as the variety of distance drivers on the market. There's simply never been a better time to be a participant in the sport of disc golf — whether as a content creator or consumer, athlete or fan. This era of organic online growth is a unique phase in the sport's trajectory, and one that we should appreciate while it's here. In the words of Innova Team Captain Nate Sexton during the 2020 Memorial Championship, "We're in the golden years. Don't blink, you might miss 'em." 
James Otis #145388 is a New York native and resides in Greenpoint, Brooklyn. He graduated earlier this year with a B.A. in Communications from Southern New Hampshire University and works as a freelance writer.