Mr. Mamba: Don Shinn, the Centenarian Disc Golfer
Mr. Mamba: Don Shinn, the Centenarian Disc Golfer
Playing to Live and Living to Play
Thursday, February 4, 2021 - 14:32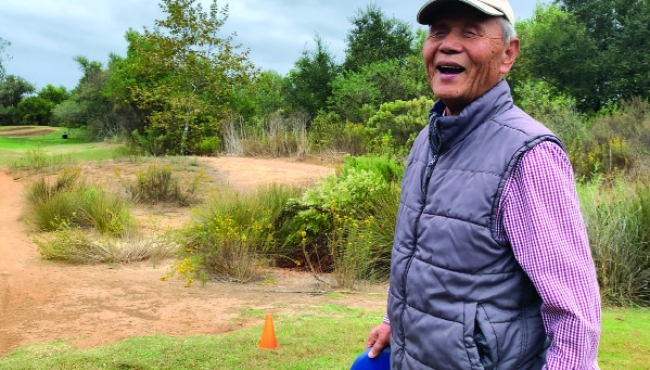 This story originally appeared in the Winter 2021 edition of DiscGolfer Magazine
On October 19, 2020, Don Shinn became a century old and he celebrated that day as he does each and every day — by playing a round of disc golf with his friends. Most of Don's golfing buddies are younger. Ok, all of them are younger. And those friends are one important part of his secret to the active life he leads. Don thrives on the energy, enthusiasm and support of his many good buddies. And they in turn are continually inspired by Don's indefatigable enthusiasm for life and the game of disc golf.
Don was born in Kongju, Korea and moved to Chicago in 1974 where he directed a large Judo academy. There, in 1977, he met his wife, Nancy, a talented seamstress. In 1984, after back problems forced him to give up martial arts, Don and Nancy moved to Southern California.
It was not until he was 90 that Don discovered the wonders of disc golf. He was working at a waterpark near Waller Park in Santa Maria when he began to watch players on the course. Out of curiosity, he approached them and asked if they would teach him the game. He began with a 150-gram Mamba and has used no other disc since. No other disc. Long fairway drive? Mamba. Tricky approach shot through the trees? Mamba. Uphill putt to elevated basket? You guessed it: Mamba!
It's throw and go with Don. No bag needed, of course. All stand and deliver — no fancy cross step for him. No vacillation between one disc or another. Every bit of his ten years of muscle memory and experience is invested into that one disc. He knows what it does. Does he have bad shots? Of course. Disc golf is like life. There are challenges to be met; disappointments to be handled. Ask his golfing buddies how Don handles a bad shot. They all have the same story. If Don throws a shot that is not as good as he hoped it would be he always says, "Oh no!" That's it, and he's on to the next shot, which will certainly be better. Over the years, he has collected three aces at Waller.
While he plays a round of golf every morning, it's not unusual for him to go 36 or even 54 if he has the time. When asked how he can do that he says, "Oh, I don't get tired." OK then. Maybe it's because he's not lugging around a twenty-five pound golf bag. He's a simple man. Want to text or email Don to congratulate him for playing at 100? Forget it. You'll have to see him at the course.
From Waller Park to Mountain Pride
After living in Santa Maria and learning the game at Waller Park, Don and his wife Nancy moved south to the Murrieta area. He's now a proud member of the very active Murrieta Rattlers Disc Golf Club and his home course is Mountain Pride, which he dearly loves.
For Don's hundredth birthday, the club and Nancy threw a small (COVID aware) party and everyone played with just one disc: a Mamba.
Then, on the weekend after his birthday, Don entered the Creekside Fling in Escondido, hosted by Ryan Meagher. As part of the event, Chris Brophy, Innova Event Specialist, and Glenn Duncan of the Rattlers, arranged to have Don set the World Flying Disc Federation record for over 100 year-old men's distance. As WFDF archivist, I also came down to officiate. Dennis Warsen and his son Zane also came to document the day for the upcoming film, Disc Golf: History in the Making.
Be Like Don
I suspect that most of us who hear about Don, or have the great fortune of meeting him in person will say, "I sure hope that I can be playing like Don if I make it to that age." Well, if we truly want to make that a reality, we have to make that more than a hope. It takes a commitment. Want to be like Don? Well, then we need to be like Don.
Not everyone can make it to 100 for lots of reasons. There are currently about 100,000 people over 100 in the U.S. But, 40 years from now, demographers expect there will be about six times that many. So, we've got that going for us. But more significantly, if we make 100 years, can we be as fit as Don? To have a chance at that takes some serious commitment. And the key to his regimen is consistency. For many years, he was a judo instructor. That's a great start. If you find yourself stuck behind a computer to make a living, you're going to have to make some adjustments.
Some of Don's secrets:
Steady routine: He plays at least a round of golf with his friends every day. That in itself is huge. Not only does it give him challenging exercise for legs and arms, it also builds his agility and endurance. And perhaps most importantly, it structures his day, giving him something meaningful to anticipate. Don't think that Don is just going through the motions. He's striving for improvement on every shot of every round. He says that the game helps him avoid the trap of distractions.
Healthful nutrition: He eats lots of veggies and fruit; many small meals and snacks through the day, rather than big meals.
Strength training: First thing in the morning and then again at night, Don does between 15 to 25 pushups, depending on how he's feeling. That's every day.
Vices: Don has never smoked, and (brace yourself) never had a drop of alcohol.
WFDF Records
If you're unfamiliar with the WFDF world record listing, take a look at: http://wfdf.org/. You'll see that this compilation is large and diverse, including age and sex categories for many different disc events. The age brackets begin at under one year of age and go up to over 100. Yep, we keep records for kids before their first birthday.
Do remember that many children are just starting to be able to walk at age one. And that brings us back to the amazing Don Shinn. There's an obvious symmetry between infants and ancients. If you're fortunate to have very old relatives or have spent any time at nursing homes, you know that mobility is a major issue for many people in their later years. It's all about canes, walkers, scooters and wheelchairs. Just to remind you, Don sometimes plays 54 holes in a day.
The guy is a phenom. The age brackets are one year up to age 19. Then, they begin again on the other side of the hill with 10-year brackets beginning over 35. Then at age 65, we go to 5 year categories on up to 100. Then, we're again back to every year. A year makes a big difference when you're two or 102.
But here again, Don is exceptional. When we first convinced Don to go for the WFDF distance record, he was already 98. In setting the 95 and over mark, he also erased PapaJack Roddick's records for 90 and 85. It's very rare when a senior player can exceed records that are 13 years younger. Also, if you look, you'll see that Don is only about three meters behind the record he set two years ago — with the same disc, of course. This most recent record was set in dead calm, after Don had just finished 18 holes. As usual, he didn't seem to be tired. He does have a whole year ahead and it won't be surprising to see him extend his 100 and over record. Look for the Rattlers to set up another attempt as soon as Don is ready.
Onward and Upward
This was a stunning achievement from a remarkable man who is an inspiration to all of us, no matter what our age. It was a thrill and an honor to be part of this historic event. And I'll leave you with something that I overheard that day.
A group of golfers was watching with amazement. Then one of the guys voiced the obvious, "Wow! He really slings it out there!" His buddy replied, "You know, I'll bet he could throw my Blizzard Boss even farther." The first guy then summed it up with, "You might be right, dude, but that's not really the point. The man does what he does. He's not Mr. Boss, he's Mr. Mamba."
Stork's been playing and designing fun and challenging things to do with flying discs for over 60 years.