PDGA Diversity and Outreach Task Force Takes Flight
PDGA Diversity and Outreach Task Force Takes Flight
All-star ensemble aims to identify and fund innovative projects to cultivate a more diverse membership.
Sunday, January 31, 2021 - 15:58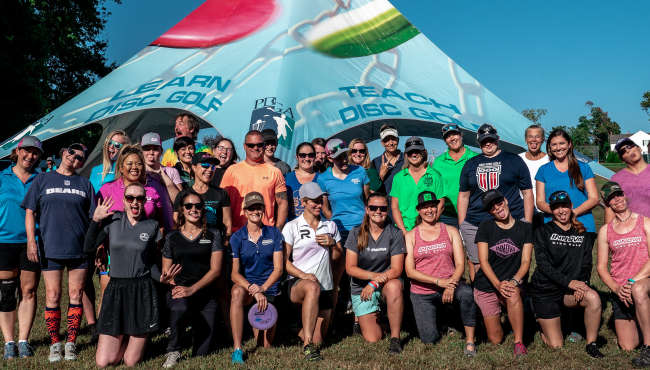 In June 2020, as the PDGA prepared to revive global competition after the COVID-19 pandemic forced months of postponements and cancellations, another cultural earthquake was underway. The deaths of George Floyd, Breonna Taylor and others sent demonstrators into the streets to protest racial injustice, and many throughout the United States were forced to take stock of their own prejudice and privilege.
The disc golf community was no exception, and issues of racial diversity and inclusion that had long lingered in the background came suddenly to the forefront. The PDGA does not collect data on the racial and ethnic identity of its members, but a 2018 study published by the International Journal of Sports Communication, which examined the profiles of disc golfers on social media, confirmed what most already suspected: It found that, of the 2,551 profiles in the sample, 85 percent were men and 91 percent were white.
In the wake of the new social consciousness, and in light of the massive cultural upheaval that precipitated it, disc golf found itself with a challenge—and an opportunity.
The PDGA Board of Directors, under the leadership of Board President Justin Menickelli, responded by committing to meet the challenges of diversity and inclusion head-on. They created the Diversity and Outreach Task Force with the mission of recruiting and retaining under-represented populations within the PDGA membership, as well as to encourage positive social change within the global disc golf community.
It's not the first time that the PDGA has looked to increase diversity among its membership, but the creation of the Task Force signals a new level of commitment.
"I don't want to discount the efforts that have been historically made," Menickelli said while discussing the Task Force. "Folks have put effort into it. But the organization—and the sport—is just not that old. We haven't been around that long. I don't want to say that we're just now getting to this, but we are prioritizing it now and we think we've come up with some strategies that will work. And we think now is the right time to do it. We've never had a committee or a task force with these particular goals."
Diversity and Outreach Grant Program
One of the first items on the Task Force's agenda will be to create a new Diversity and Outreach Grant Program, which is nearing completion and expected to be rolled out in the coming weeks. The new grant program will be better funded and more narrowly target than past efforts, says Menickelli, and will look to harness the creativity of PDGA members to create projects that will bring players from more diverse backgrounds into the game.
"We're going to focus on success stories," Menickelli said. "For now, we're looking for more success stories, and want to provide the financial opportunity for more success stories. There have been successful programs and workshops historically, and that's great, but we want more of them. More programs. More workshops. More initiatives that are designed to increase the diversity of our membership. We want more of those."
As a college professor with extensive experience writing and awarding grants, Menickelli saw an opportunity to provide leadership in the creation of the grant program but realized that he would need a strong team to help identify and develop strategies for pushing the initiative forward.
"I had it in my mind that I was going to build this rock star committee," he recalled. "There were a couple of names that I had in mind, so I started making calls and at the end I'd ask if there was anyone else that they thought should be included. It started with four or five names and quickly grew to eleven.
PDGA Diversity and Outreach Task Force Members
Philo Brathwaite
Rebecca Cox
Christine Jennings
Martha Jimenez, J.D.
Justin Menickelli, Ph.D. (chair, ex-officio, non-voting)
Sara Nicholson
Dan "Stork" Roddick, Ph.D.
Jerry "Swami" Swain
Leah Tsinajinnie
Tita Ugalde
Josh Woods, Ph.D.
"The group is very diverse. There are six women and five men. It is racially and ethnically diverse. We've got three PhDs and a JD. There are three touring professional disc golfers. Three members have founded their own not-for-profits. Each of those are organizations with similar goals to the task force and the PDGA, and so those folks will have something to contribute right away. We range from 24 to 72 years old. We've got folks with six-digit PDGA numbers, and, then, of course, we've got Dan "Stork" Roddick— PDGA #003.
"That's what I wanted. I wanted new players and veteran players. Professional touring players and recreational players."
Task Force member Rebecca Cox is one of the few professional touring pros representing disc golf's underserved demographics, although it was only recently that she recognized the outsized impact that her presence in the professional ranks had on opening the door to players who didn't fit the sport's stereotypical image.
"When I started touring, I just wanted to compete," Cox said about her recent foray into diversity activism. "I wanted to be a pro. I didn't realize how my race would affect my career. The first year or so, I was way more focused on just playing disc golf. I grew up in a predominantly white community, so it's not like I felt uncomfortable on tour. And touring pros are great, amazing people, so it's not like I was having issues out on tour either.
"But when I went on tour and met these Black, diverse families, it really opened my eyes to how I'm influencing people just by going out and playing tournaments. I've met people who have told me that the only reason they play is because they saw me on YouTube. I realized that I have so much influence on people, and that I should do something about it."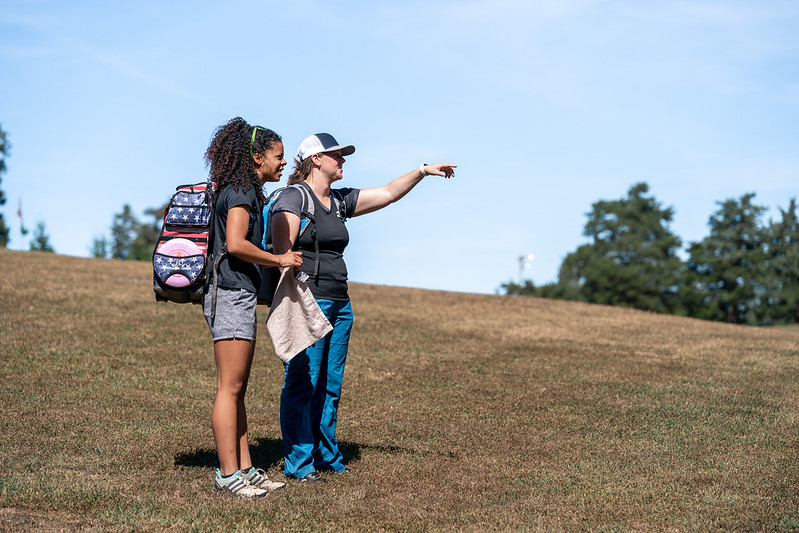 In addition to the PDGA Diversity and Outreach Task Force, Cox joined forces with Sally Chatman to create Diversify Disc Golf, first as a Facebook Group dedicated to sharing stories and encouragement for players of diverse backgrounds who were discovering the sport, and then, following its initial success, as a 501(c)(3) non-profit organization. She sees the two entities working hand-in-hand to develop diversity at all levels of the sport.
"The Diversity Task Force is very closely connected with the PDGA," she explained. "It's a direct way to talk to the PDGA and communicate with other high-profile people. Diversify Disc Golf is more about reaching people who don't know about disc golf or who have only been playing for a short period of time. And because it's a non-profit, it has been more of my main job, but with the task force I can communicate directly with the PDGA and take ideas from Diversify Disc Golf and apply them when I go into these task force meetings."
She'll be taking her work with her this summer as she embarks on what everyone hopes will be a long and uninterrupted 2021 disc golf season. And like Menickelli, she's determined to make sure that the Task Force, as well as the general commitment to increasing disc golf's racial and gender diversity, doesn't fade with time.
"I think it's important for people to know that the task force isn't just about creating an image," she said.
Menickelli echoed her resolve.
"We as a Board made a pledge this summer to take a look at the lack of diversity in our membership, and we made a promise to do something about it," he said. "We firmly believe that there is strength in diversity. When you get folks from different backgrounds in the same room—in the same organization or the same sport—then those folks bring unique perspectives.
"And when you bring people together with unique perspectives, creativity emerges. Innovation emerges from that."
Plans are for the PDGA Diversity and Outreach Task Force to meet monthly throughout 2021, at which point it will transition into a standing PDGA Committee. Details of the Diversity and Outreach Grant Program, which are expected soon, will be announced through PDGA Media and promoted across the PDGA's social media channels.
Follow PDGA on Facebook, Twitter, and Instagram, and subscribe to our weekly newsletter to stay up to date on all of the latest news and information.